St. Joseph's Alumnae
l915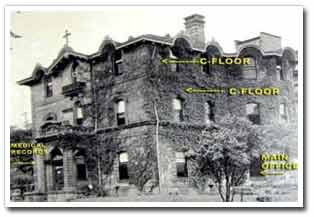 The Alumnae was formed the year that the first nursing class graduated and has been in existence ever since. The first president of the Alumnae was Ella Kelly.

The Constitution and Bylaws were established and set the nucleus of the present association. Bylaws were regularly reviewed and revised to assist the executive committee members to achieve their mission. Early goals of the Alumnae were to keep the graduates in friendly touch with each other and their Alma Mater and to provide monetary donations to the needy. Over the years, the Alumnae continued to further the interests of students and the hospital with prizes to graduating nurses for general proficiency, cash donations on the opening of new wings and gifts of money to the school library.

In the early years, membership in the Alumnae was a requirement as part of the working conditions set down by the Hospital. At that time, graduating nurses were presented with a free first-year membership. In the early days, once a nurse was engaged, after graduation, it was expected that she would leave hospital nursing. In a 1940s Alumnae meeting there was reference to the admission of married women into the Alumnae. Later all registered graduates of St. Joseph's School of Nursing were welcome to apply for membership. In 1949, the first reunion and social evening was held, with 90 members attending. Annual reunion/business dinner gatherings continue to this day, providing a social setting and opportunity to renew acquaintances and share memories.
Alumnae membership had 49 graduates by 1920.
1962
A quarterly newsletter was published and sent out to paid members of the Alumnae Association. Present-day newsletter content includes a message from the association president and newsletter editor. Highlights included achievements of individuals, notices of reunion dinners and an obituary column
1973
On June 20 1973, a historic event in the life of St. Joseph's School of Nursing occurred. It was the 60th and final class to graduate from the St. Joseph's School of Nursing. In September of that year, nursing education transferred to community colleges and its era as an independent school ended.
The Mohawk College Nursing Program continued to graduate nurses from1974 to 1978 at the St Joseph's Campus.