St. Joseph's School of Nursing

CLICK HERE TO DOWNLOAD HISTORY DOCUMENT
1911
The Sisters recognized a pressing need for additional trained nurses.
On September 8, 1911, the growth of the hospital led the Sisters into the decision of opening a school for lay nurses. Thus St. Joseph's School of Nursing began, attracting generations of young women, and eventually some men, who felt called to a demanding and rewarding career in the care of the sick.
They were disciplined, hard-working and self-sacrificing individuals who brought honour to their school and to St. Joseph's Hospital.
The nurses' first residence was the Adam Brown Residence, at the corner of St. Joseph's Drive and Mountwood Avenue. It was demolished later to build a new nurses' residence. Later, this residence was replaced as a parking garage.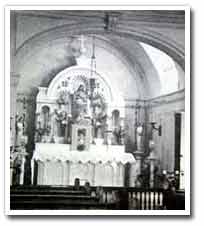 Each girl wore a crisp starched blue and white cotton uniform, made at home according to strict specifications. Apart from some minor changes, the same uniform was worn until 1965 by generations of students who remember them as uncomfortable with stiff collars, cuffs, and belts. A highly starched bib and apron were worn over a blue underdress and were complemented by white nursing shoes and hose. Eventually, more comfortable white uniforms were worn in the summer and in the OR, Peds, Nursery and Formula Room. Blue and red capes made of wool were used when the weather turned colder. White school caps were worn as soon as the probationer was deemed worthy while black bands were affixed to the nursing caps when students had earned them. Each school of nursing had its own signature caps that were worn with immense pride.
At 6 am, during a typical school day, a merciless bell, which was rung by hand, could be heard ringing up and down the halls. Uniform inspection and attendance was taken at 6:30 a.m. Everyone went to Mass and had breakfast before going on a 12-hour duty, from 7 a.m. to 7 p.m. They were relieved for 1 1/2 to 2 hours every day. Classes began in the evening after their shift when the doctors and nurses were free for lectures.

Most of the nurse's training was of the hands-on variety – she learned by doing. Service to the hospital was the student's first priority while formal education came second. Service to the hospital took precedence over education requirements.

The purpose of the hospital was to provide charitable services, rather than education. Students were admitted to the school and immediately were assigned to the wards as workers: teaching was incidental. In the '30s and '40s, lectures increased and classes were no longer in the off-duty time. The Sisters taught 90 percent of the nursing content and doctor's lectures increased.

In the early 1950s, the block system of teaching was initiated. In the 1960s, a nurse's education reflected and responded to the many new specialties that had developed in medicine. The emphasis shifted to acquiring theory, before undertaking practical theory.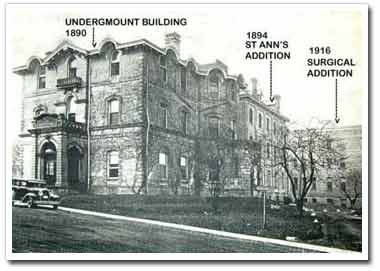 Each week, all students had a half-day off. Curfew was set for 10 p.m., at which time all students had to be in their bedrooms. One night a month, there was a late leave of 11:30 p.m. It was compulsory for nurses to sign in at the hospital office and return to the residence via an underground tunnel, a dreaded walk at that hour because they passed the morgue en route.

In the first year, the student received a $6 allowance, with a one-dollar increase each year. Anything broken or damaged was deducted from the student's salary. There was a strong sense of seniority among students – doors had to be opened for senior students. Lipstick, nail polish and rouge were not permitted.
1915
On January 22, 1915, the first group of nurses, nine young ladies, graduated with an impressive ceremony in the school lecture hall, after which they returned to their wards and patients. Graduates received their black bands in their senior year and their pins, diplomas and a beautiful bouquet of red roses at a graduation ceremony.
The Ontario government passed legislation in 1920 to enact a registration law, which required all nursing students to write departmental exams on the completion of their course. This was the signal for extensive improvements in all schools of nursing seeking provincial approval.